Technical Management
We undertake the technical management of all sorts of ships, including but not limited to reefer, chemical tankers, bulk carriers, gas tankers, etc. As a progressive and proactive ship managers, we at DNS Marine draws from our pool of talented and experienced resources for service disposal both ashore and offshore. All our technical services conform to the internationally recognized quality management standards.
Our technical superintendent inspects the subject ships every 3 months to ensure that every aspect is clear and follow-up each visit of shipboard activities. We employ computer-based systems to monitor vessel performance. All data sent by the ships are analyzed ashore to optimize vessels speed, and consumption performance.
We ensure that all of the customers specifications are met for periodic technical and accounting reports. The clients are free to approach us for any information at any time related to their vessels.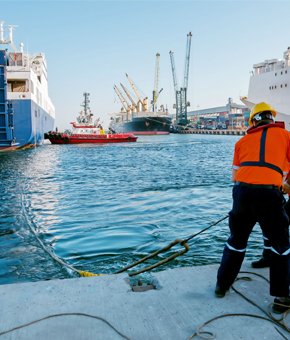 Crew Management
We offer a range of services including the recruitment and selection, training, and management of officers and ratings deployed on a wide array of vessel types. Under our crew management service, we take extra effort to ensure that the quality is maintained throughout in a uniform format.
We provide crew management to our extensive network of recruitment offices spread across India, Philippines, Bangladesh, and China, which are the primary manning source for the global merchant fleet.
We possess data on about 8000 seafarers and this exhaustive manning profile is managed by a state-of-the-art crewing module. Our crewing module is encased within the PARIS ambit and stores data, which is made available to the users on demand. This approach ensures that we can assign the best resource from the available pool of resources with matching skill sets that can best handle the special needs of the desiring vessel. The crewing module also integrates with other financial and operational modules to provide a comprehensive solution to the users.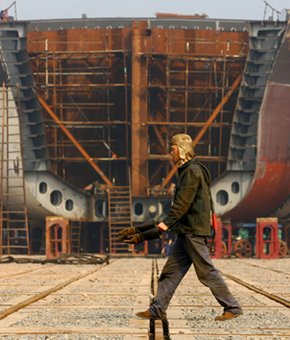 New Building Supervision
We possess an experienced and capable new building supervision team that is geared to provide complete new building supervision services right from its designing to the delivery of the vessel. Our services include project viability study, planning of approval, and designing modifications that are required to comply with new regulations and operational requirements. At DNS Marine, every project is manned by a fully skilled team of significant experience in operating and managing hull and machinery as well as painting supervisor with the NACE or FOROSIO level 2/3 certification. We check each plan and get them approved by our in-house expert panel boasting of naval architects, marine and electrical engineers, and ex-class surveyors.
We perform continuous evaluations of all operations and maintenance activities for their compliance with the best practices and incorporate the learning and suggestions into our next new building ships for better performance every time. Until date.
we have undertaken new building supervision services for more than 50 vessels of diverse types from the builder's yard across major ship building nations.
Marine Insurance
We offer highly competitive and attractive rates for all sorts of marine insurance through our associates in the industry. All our associates are esteemed and experiences and are known for their transparency in operation and reliability:
Hull and Machinery
Federal and California COFR Guarantees
War risk cover
Loss of Hire
F,D & D
P & I
K & R
Pre-Purchase Inspection or Condition Survey
DNS Marine undertakes pre-purchase and independent vessel condition surveys on behalf of ship owners, financial Institutions, and banks for all ship types at a competitive and reasonable rate. We employ a wide network of strategically located offices that ensures a quick and economical service for a comprehensive report on the assets selected. We also offer to spot check on the structural integrity and operational condition of the ship's electronic, mechanical, propulsion, or cargo handling equipment in a planned manner or on spot basis prior a major dry-docking/conversion.
We provide a detailed recommendations report that accompanies the deficiencies noted in each report we submit to the client during the survey process.
Superintendence and Special Projects
We provide vessel up-gradation and conversion services that include but are not limited to major alterations of a vessel's function, minor repairs, and upgradation. These services include feasibility studies, design, planning, and execution of the conversion works. We also provide in-port and at sea independent contract and supervision of repair and maintenance services for a diverse fleet of vessel types.
Our service delivery varies from the basic supervisory services to the deployment of cost-effective riding squads composed of welders, fitters, machinery supervisors, carpenters, plumbers, and pipe fitters.
Shipboard Audits
We perform independent safety and ISM audits to ensure that each vessel is in compliance with the necessary safety standards and the company's safety management system. We perform regular audits and even periodic ones. We also offer impromptu audits to evaluate the efficiency of the ship operations with respect to the standards.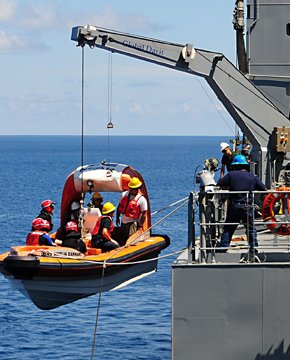 Training
We established our training Institute in 2010 in India and have since then expanded the same using the state-of-the art simulators and audio visual aids to meet the rapid growth of the fleet.
The training institute is DNV Certified and approved by the Director General of Shipping of the Maritime Training Centre. The courses being offered here comply with the requirements of the STCW 95 Convention and the guidelines of Directorate General of Shipping, India.
We also conduct DGS-approved courses on Full Mission Engine Room and 180 degree Full-mission Bridge Simulators at both the operational and management levels. We have initiated TOLAS' (Training on Land and Sea), which is a web-based training system developed completely in-house. With TOLAS, we have become the world leader in providing online web-based training. With the rollout of TOLAS to the entire fleet and comprehensively integrated ship-to-shore training has been fulfilled. The Institute produces its own course materials. Videos are shot onboard vessels and produced by the institute's in-house creative team, achieving high quality in terms of content and cost effectiveness and the overall value.
Commercial Management
DNS Marine employs an extensive team of experienced and professionals who work together to provide comprehensive commercial management services that include creating strategies and employment management for vessels, negotiation and providing services in support of charter party contracts, full post-fixture support, as well as account tracking. We use advanced software on request for voyage calculations and for calculating estimates to enable owners keep track of their voyage results at any instant.
We also:
expertise to help the client avoid and reduce future demurrage costs.
investigate past demurrage charges for potential savings
advise on chartering strategies.
source the best employment opportunity for a vessel.
negotiate charter party contracts.
instruct the vessel Master with respect to the charter party terms.
provide appointment and liaison with port agents.
get consultants to audit relevant vessel logs and inspection reports
monitor vessels to ensure adherence to charter party terms.
take up post-fixture and account tracking functions.
perform demurrage and dispatch calculations.
report and analyse voyages.
share shipping industry best practices for demurrage cost mitigation with the client and identify cost savings opportunities.
supply marine fuels.
provide demurrage consultancy.
ship demurrage in busy ports to make a significant impact on profits.
reduce client demurrage costs.
review, analyze, and pinpoint areas where the client can save time and money.
Ship Spares Supply
We possess a huge supply of stocks that are essential for the functioning of your vessels. Our stock collection includes machinery and spares of different makes and types that have been procured from ex-vessels that arrive at ship-breaking yards. Inventory ranges from o-rings and seals to complete main engines and generators, ready for shipment by air, by ocean or for in-port delivery. We hold 1,100 ton or more of ready-to-use marine machinery at any given point of time. In Jan 2012, all stocks were consolidated at the new state of the art multilevel stacking 2500 Metric Ton holding warehouse and marine workshop.
We keep updating our stock collections that can be inquired from our consultants.
We perform major overhauls and emergency repairs and execute all types of repair works ranging from emergency makeshift repairs to permanent machinery repairs.
We also undertake E/R machinery repairs in ports around the world and indulge in D/D repairs for hulls, etc.
Naval Clearance & MoD Clearance
We obtain MOD clearance and liaison with respective offices of ONGC to get the MOD signal conveyed to our centres so as to enable them to plan NSC Inspection for respective vessels.